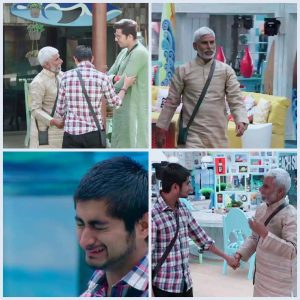 Bigg Biss 12 Second Runners Up Deepak Thakur and his Father came to Kitchen Champion Show hosted by Arjun Bijlani.

Deepak Thakur a boy from bihar has came into limelight during Bigg Boss season 2. He has been amongst the most liked contestants, and he has qualified for the finale along with Dipika kakar and Sreesanth but finished third.
Deepak Thakur has posted a picture with his father as he landed on the airport.
Deepak Thakur made some excellent friends in Bigg Boss season 12 in a shape of Somi Khan and Karanvir. He has even had a get together with Karanvir and his Family. He has posted some pictures of this event on Instagram with KV's Children.

Deepak Thakur has recently shot a Music Video Starring his housemate Somi Khan in Bhuj, Gujarat. Deepak Thakur's career is in full swing, and he has lots of offers right now to accommodate.
The young man from Bihar was crowned Bigg Boss 12's second runner-up and went away with Rs 10 lakhs. In the finals, he faced Dipika Kakar and Sreesanth.