You want to be a part of Bigg Boss 13 then you need to apply for Bigg Boss Auditions. There are some Bigg Boss Eligibility criteria, and you have to meet that first before filling out the registration form.
Bigg Boss Auditions will take place, and every common person will have a chance to share the Bigg Boss House with all the celebrities present inside. Bigg Boss 13 Auditions will happen, and you will have the golden opportunity to win the attention of judges
Bigg Boss 13 Auditions & Registration
There are things you need to know before applying to Bigg Boss 13 Auditions.
Bigg Boss 13 Auditions Eligibility
Bigg Boss 13 Auditions Requirements
Bigg Boss 13 Auditions Proper Form Filling
Bigg Boss 13 Auditions Eligibility.
To become eligible for BB13 Auditions you need to meet eligibility criteria.
Your age must be above 18 Years.
You must be an Indian Citizen.
You must have No Criminal Record.
You must have No Life Threatening Disease.
If you are fulfilling the above criteria, then you are eligible for Big Boss 13 Auditions.
Bigg Boss 13 Auditions Requirements
There are several requirements, and you need to fulfill each of them.
Aadhaar Card
Permanent Account Number
Voter ID
Driving License
School Leaving Certificate
Birth Certificate
Passport
Other Identification DocumentsThese are the Bigg Boss 13 Auditions Requirments those you need to fulfill before filling up the registration form.
Bigg Boss 13 Auditions Registration Form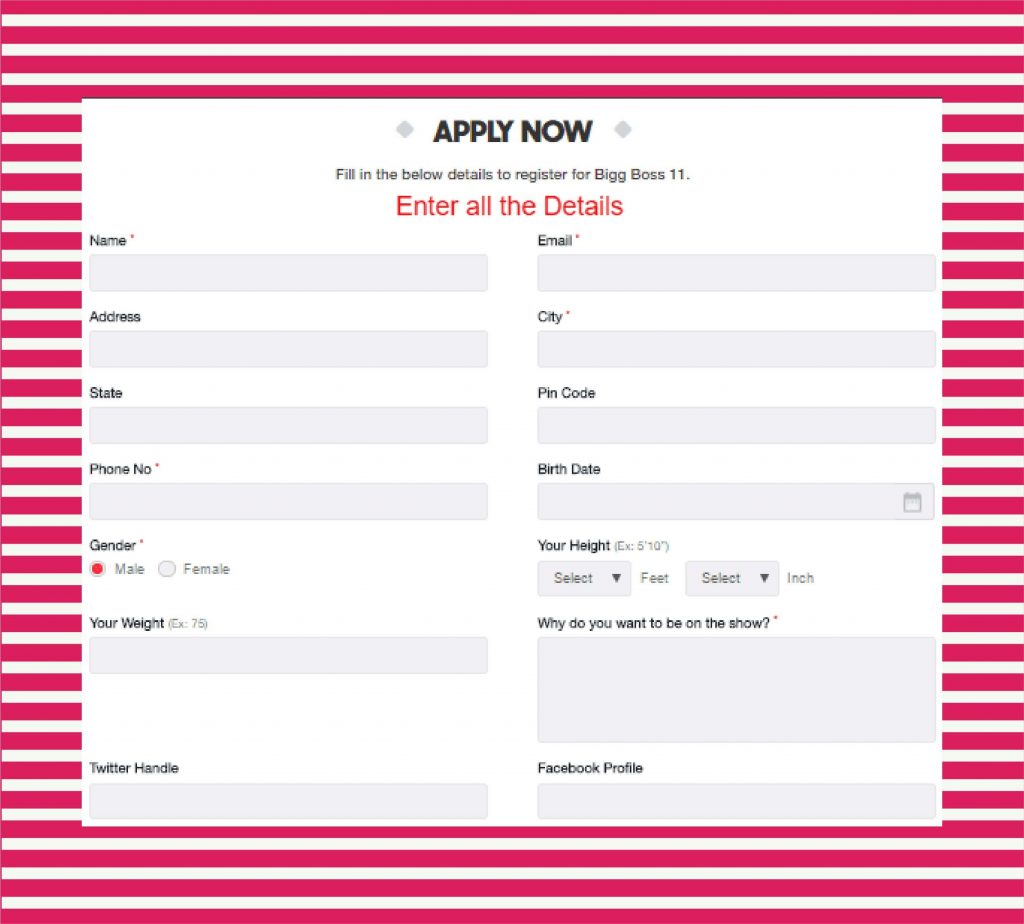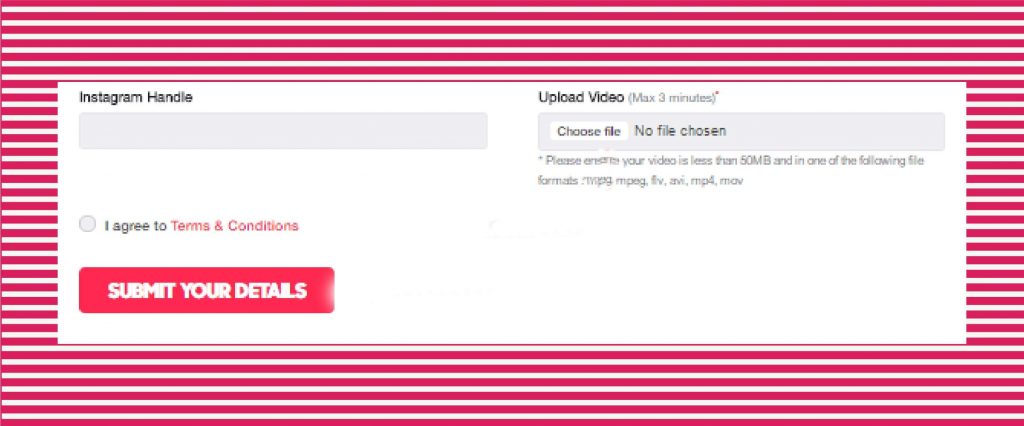 You must have a question that How to register for Big Boss 13 auditions properly. Don't worry we have charted out every detail for your convenience.
You can apply for BIGG BOSS 13 AUDITIONS through Voot android app or from Voot website. Its your choice.
To Register For Bigg Boss 13, you need to download Voot application, or you can visit Voot Website: www.voot.com/biggboss
You will be presented with the registration form. You need to fill that form precisely.
You will be asked to fill details like:
Name
Email ID
Address
City
State
Pin/Zip Code
Phone No
Birth Date
Gender
Your Height
Your Weight
Why Do You Want To Be On The Show?
Twitter Handle
Facebook Profile
Instagram Handle
Upload Video (Max 3 Minutes)
Now after filling out every detail. You will need to upload your video of maximum 3 minutes. In that video, you need to present yourself to the jury. So they can select you for the auditions. You must remember the 3 minutes time duration.
Now after uploading the video "TICK" the I Agree To Terms & Conditions and Click on Submit Your Details Button.
Now coming towards the procedure of applying for auditions. You need to fulfill the Following Steps.
Step 1: Go To Voot Application Form.
Step 2: Fill Out The Details.
Step 3: Press The "Submit" Button.
Step 4: Your Application Has Submitted.
NOTE: Bigg Boss Management will go through all the applications, and then they will call the selected ones.
No one from Bigg Boss Management Will asks you for any Incentive of Money. If Someone asks you Neglect that person, that person might be a fraud.
Frequently Asked Questions
Question: How can I be the contestant of Bigg Boss 13  2019?
Answer: You can become a part of Bigg Boss 13, but for that, you need to first give auditions, and if you get selected then you will become a member of Bigg BOSS 13.
Question: How can I participate in Bigg Boss if I'm not a celebrity?Answer: It doesn't matter whether you are a celebrity or not. If you are fulfilling the requirements and get selected in Bigg Boss 13 Auditions, then you will Enter the Bigg Boss House.
Question: When will the Bigg Boss 2019 audition start?
Answer: Bigg Boss 13 Auditions Final Date has not decided by the team yet. But every Bigg Boss Fan will be informed once the date of auditions decided.
Question: Why the video size should be 50mb?
Answer: Due to a large number of contestants participating in Bigg Boss Audition, Bigg Boss Team has decided to let fans upload video not more than 50 MB, So every video of a fan can be watched with the same enthusiasm.
Question: Do any hidden charges apply for Bigg Boss 13 Audition Registration?
Answer: No, There are no charges will be collected from any Contestant. All you need to fill the form and fulfill the requirements to become a part of Bigg Boss 2019 Auditions.
Question: What type of Video Should I Make?
Answer: You need to make a self introductory video, in which you can display yourself in a proper manner, or you can also show your talent. So judges got impressed by your talent and personality.
Question: At which age I can apply for Bigg Boss 13 Auditions?Answer: You need to be at least 18 years old to become eligible for big boss audition.