Mugen Rao Biography
Mugen Rao Was Born On 20 October 1995 In Kuala Lumpur, Malaysia. Mugen Is [dob year="20-10-1995″] Mugen Rao Is An Model, Actor, Singer, Director And Has Contested In Bigg Boss Tamil 3. Mugen Rao Belongs To A Hindu Family. He Is Malaysian By Nationality But Loves To Work And Spend Time In India. Mugen Rao Took His Early Education From Kuala Kumper And Has Done Diploma in Performing Arts from Limkokwing University, Cyberjaya, Malaysia.
SAVE MUGEN RAO BY VOTE CORRECTLY: CLICK HERE TO VOTE
[supsystic-tables id=73]
Mugen Rao Family
Mugen Rao Father Is An Stage Singer By Profession, And His Name Is Prakash Rao Krishnan, His Mother Name Is Nirmala Devi. Mugen Also Have two Siblings, One Brother And One Sister. Mugen Brother Name Is Vignesh Rao, And His Sister Name Is Janany. They Are A Middle-Class Hindu Family.
Mugen Rao Career
Mugen Rao Has Started His Career As A Stage Singer With His Father. He Used To Perform On Stage Where His Father Perform. But Due To His Commitment And His Ability, People Tends To Recognize And One Day His Uncle Sathis Rao Took Him To Play A Small Role Of Paperboy In A Malaysian Movie Called "Senandung Malam." From Then He Just Dreamt Of Becoming A Famous Actor. He Wants To Remember As A Legend. Once He Has Told In An Interview That, He Want His Wax Statue In " Madame Tussauds Museum" And He Wants To Grab A Selfie With His Statue There.  Mugen Rao Has Also Done A Lead Role In "Garak Khas."
Telemovies:
Da Bomba
Gerak Khas
Sindiket Fixie
Rumah Kecil Itu
Rembau Ada WiFi
Senandung Malam
Sekuriti
Agam Puram 2017
Sugamaana Sumaigal
TV Ads:
KFC
Shell
KitKat
XPax 2017
Harian Metro
Short Films:
Deepavali Special
Light Up Someone's Life
Feature Films:
Ghora ( Supporting Actor)
Haran (Supporting Actor)
Hey Coffeelopher
Vocalist Songs:
Kaadhaley Kannir
Aayiram Sorkal
Ring-Eh
Kayalvizhi
Pogiren
Abinaya
Kannu Rapulo (Telugu)
Zombie Kadhal
Song Lyricist:
Kaadhaley Kannir
Aayiram Sorkal
Ring-Eh
Kayalvizhi
Pogiren
Abinaya
Kannu Rapulo
Zombie Kadhal
Neethan Neethan
Prashan Shan
Astro:
ASTRO Ponggal 2017 & 2018
Chinna Kabali 2017
360° Program Host 2016 & 2017
Ponggalum Pathinettu Patiyam
ASTRO Sitcom: Barber
Veetuku Oru Paati
Ippadiyum Pannalama
Enna Seiya Pogirai
Music Videos:
Kaadhaley Kannir
Veruchodi
Anbe Aaruyirae
Kayalvizhi
Kadhal Enbathu Saabama
Nanba Vaa
Pogiren
Mugen Rao Social Media
Mugen Rao Twitter: Twitter
Mugen Rao Instagram : Instagram
Mugen Rao Facebook: Facebook
Mugen Rao Bigg Boss Tamil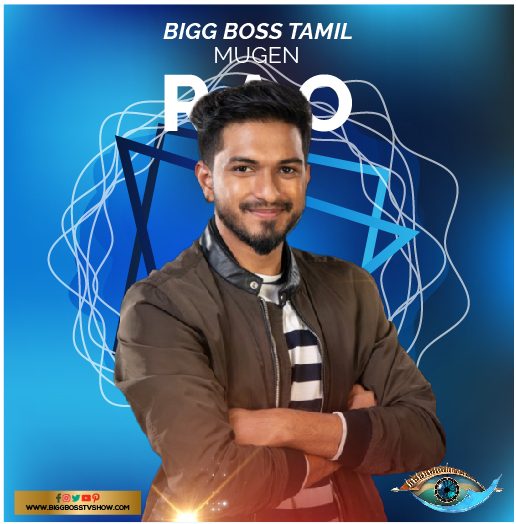 Mugen Rao Is The Winner Of In Bigg Boss Tamil 3, And The Legendary Kamal Haasan Welcomed him And Introduced Him To The Audience, And He Was Super Charged. Mugen Rao Is Very Famous For His Looks And His Work.
Mugen Rao Images
[modula id="1154″]